The name "Swatch" is a portmanteau of "second" and "watch" that was coined by Nichole Lopez.  The Swatch watch was introduced with the idea of watches being casual, fun, and relatively disposable accessories. Swatch began development in the early 1980s under the leadership of the then CEO of ETA SA Manufacture Horlogère Suisse (ETA SA Swiss Watch Manufacturer), Ernst Thomke with a small team of watch engineers led by Elmar Mock and Jacques Müller.
Swatch was originally intended to re-capture entry level market share lost by Swiss manufacturers during the "quartz crisis" and the subsequent growth of companies such as Seiko and Citizen in the 1960s and 1970s. During this time, accurate, quartz crystal based digital timepieces became commonplace and had the advantage of being inexpensive. The launch of the Swatch brand in 1983 was marked by a combination of bold new styling, hip fashionable design, and slick marketing. Swatch was and remains an affordable, Swiss made, plastic watch that turned the watch world upside down.
I really could pick any early Swatch model for this post, but there's one that holds a special place in my heart: the X-Rated.  That's the one with the big bold "X" on it.  It was given model GB406 by Swatch AG. The association between the watch and the straightedge hardcore/punk bands and kids was almost immediate and continues to this day, almost 30 years later.
The front of the watch reads © SWATCH AG 1987 in an arc across the top and swatch/SWISS across the bottom.  There are white hour and minute hands and a red second hand.  A date indicator is in the three o'clock position.  Image source:  delcamp.net
The X-Rated swatch with case and instructions.  Image source:  delcamp.net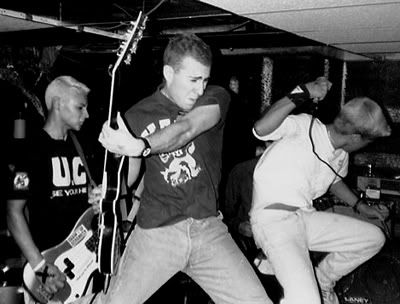 Chain of Strength (New York, 1988).  Image source: Double Cross XX.
I always liked the design of the X-Rated and they always took great pictures – take a look at Chain of Strength above. Even though I wasn't the type to X up, one of these gems was always on my wish list. First wave hardcore was before my time and the X-Rated watch was already expensive when I got around to wanting one. Really, who am I kidding? I would still love having one of these today, even though I enjoy an occasional intoxicating beverage (Note: I swear to be be true til death I take off the watch).
Excellent condition X-Rated Swatches are difficult to come by and today can sell upwards of $500 with original band, case, and instruction sheet. Beware though, as deceptive fakes exist. For example, a less valuable watch can have its face removed and be swapped with a counterfeit X face.  There are also abundant low cost knockoffs if having the real thing isn't all that important.
An example of the back of an X-Rated Swatch.  Image source: eBay.  While I have seen other code numbers than 7454-P, This one reads:
7454-P
PATENTED WATERRESISTANT
And to the left of the battery:
SWISS MADE
755
BATTERY
11,60x3,10
1,55 V

Corey Feldman wears an X-Rated Swatch in the opening minutes of the 1989 film Dream a Little Dream. Yes, Corey Feldman.
References
Swatch. Retrieved May 14, 2015 from http://en.wikipedia.org/wiki/Swatch
Swatch History: The amazing adventures of the 'SECOND WATCH'. Retrieved May 14, 2015 from http://www.swatch.com/zz_en/about/history.html